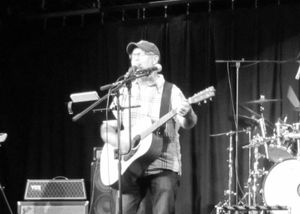 Welcome to my music page!
 
By God's grace, I've enjoyed writing many songs over the years. Some of my favorites are here for you to listen to in audio and video format. I spent many years singing and ministering in many towns and cities in the USA and beyond. I'm incredibly blessed to have met so many amazing people along the way.
 
Perhaps I met you in one of those towns, and you were ministered to by one of these songs. Maybe you are here because you stumbled across my page through a friend's Facebook page link! No matter how you got here, I'm sure glad you are here!
I pray you enjoy your time on this site and receive some inspiration, encouragement, and even motivation to follow the Lord Jesus Christ with your whole heart. He loves you! The motivation behind my music is God's love displayed on the cross through Jesus Christ. I pray you know Him, and He has also transformed your life. If not, please feel free to write me, and perhaps I can introduce you to the one who loves you the most, My Lord and Savior Jesus Christ!
If you would like to support the ministry, you can buy an mp3 or a CD by following the links provided or keep coming back and listening for free. 
God bless you,
Brian Mark Weller
When COVID-19 was sweeping the globe,
many were asking life's hardest questions:
Why do we die?
What happens after death?
How can I be sure I'll go to Heaven?
My son JJ Weller wrote a short book answering the above questions.
The book is free in audio, video, and PDF format on our website.​
Hit the CUREFORDEATH.NET link to the right for your free copy.